Heritage Shores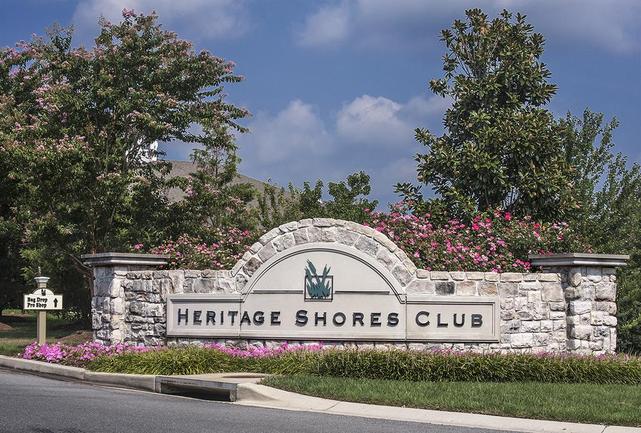 Heritage Shores 55+ Golf Course Community-Bridgeville-DE-Clubhouse Entrance
23 White Pellican Court
Bridgeville, Delaware 19933
Price Range: $200,000 - $350,000
55+ Communities: Yes
Coastal Delaware: Yes
Golf Course Communities: Yes
The Heritage Shores Neighborhood
Heritage Shores is the premier Active Adult community located in western Sussex County, Delaware. It is the only 55+ community with its own golf course in Delaware. The public Arthur Hills 18-hole Championship Golf Course is a beautiful setting even for those who don't play golf. All of the amenities are open today including the 28,000 square foot Heritage Shores Club, the separate Aquatic & Fitness Center with an indoor and outdoor pool and tennis courts. Heritage Shores features two builders with a wide variety of single family detached and attached homes priced from the mid $200s to the upper $400s. Home sites on the golf course, on one of the many ponds or backing to the woods have been most popular. Eventually, the community will contain 1800 homes. Bridgeville is a convenient location for day trips to the Eastern Shore, to Annapolis and Baltimore and a quicker trip to the beach resorts in Coastal Delaware or Ocean City, MD.
Enjoy Heritage Shores' Amenities!
Heritage Shores Club - 28K Sq. Ft.
State-of-the-Art Fitness Center
18-Hole Golf Course
Pro Shop
Passwater's Restaurant
1730 Tavern
Indoor Pool
Outdoor Pool with Sundeck
Aerobics & Dance Studio
Ballroom
Card Room
Arts & Crafts Studio
Woodworking Shop
Computers
Library and Media Center
Sugarbeet Market
Tennis Courts
Walking & Biking Trails
Outdoor Terraces Overlooking Golf Course
About the Town Of Bridgeville
Bridgeville is located about 30 miles from Rehoboth Beach, Delaware and about the same distance to Dover, the Capital of Delaware, to the north. In fact, it's an easy trip from Bridgeville to the Eastern Shore of Maryland, to Annapolis or Baltimore, north to Wilmington or Philadelphia and south to Salisbury, Maryland, or the coast of Virginia. Read more about Bridgeville.
Below you can see the Model Homes that are available in this community. They can be customized to suit your individual taste. When you look at pricing, especially on the "to be built" homes, remember that new construction is always listed at the BASE MODEL PRICE.
New Home Floor Plans (some also available as resales):
Premium lots are available for custom homes and good value can be found in some of the resale homes built in 2005/2006, but they tend to be selling quickly as our market accelerates. Browse the floor plans to see which model best suits you:
"New" The Malone - 2 Bedrooms, 2 Baths with 1486 sq. ft.
The Quincy II - 3 Bedrooms, 2 Baths with 2146 sq. ft.
The Redmund II - 2 Bedrooms 2 Baths with 1945 sq. ft.
The Lewis - 3 Bedrooms, 2 Baths with 1403 sq. ft.
Built in 2005/2006, these Models may be available as Resale homes.
The Kinkaid - 2 Bedrooms, 2 Baths with 1297 sq. ft.
The Newlyn - 2 Bedrooms, 2 Baths with 1856 sq. ft.
The Stanwyck - 2 Bedrooms, 2 Baths with 2290 sq. ft.
The Oliver - 3 Bedrooms, 2 Baths with 1853 sq. ft.
The Talbot - 3 Bedrooms, 2.5 Baths with 2207 sq. ft.
Floor Plans by Lennar (available as resales only):
The Bridgebranch - 3 Bedroom, 3 Bath
The Georgetown - 3 Bedroom, 3 Bath
New Home Floor Plans by Ryan
The Belize - 2 Bedrooms and Study with 1437 sq. ft.
The Brighton - 2 Bedrooms with 1716 sq. ft.
The Martinique - 2 Bedrooms and Study with 1686 sq. ft.
The Pisa - 3 Bedrooms with 1406 sq. ft.
The Riviera - 3 Bedrooms with 1945 sq. ft.
The Springbrook - 3 Bedrooms 1852 sq. ft.
New: The Brentwood - 3+ Bedrooms, 2+ Baths from 1730 Sq. Ft.
Incentives may apply. Contact Linda Chick for current information.
While we strive to do our best to have the most current information available on our website, please note that availability of models, their prices, and square footage are subject to change without notice by the Builder. For the most current info on models available, pricing, and square footage, feel free to contact us. Call 302-424-1890 or email Kathy@activeadultsrealty.com for Sussex County communities or Bill@activeadultsrealty.com for communities in Kent and New Castle Counties.
You may want to read this article on Understanding Base Model Pricing.