Active Adults Delaware Area Info
Middletown
Select another area
Quick Search for Homes for Sale in Middletown, DE
Middletown, Delaware, located about 24 miles south of Wilmington, is an early crossroads town, one of the old Delaware towns not on a navigable waterway. It was originally a tavern stop about half-way on the old cart road that extends across the peninsula between Appoquinimink Creek in Odessa and Bohemia Landing on the eastern branch of the Bohemia River in Maryland; thus the name, "Middletown."
Middletown was incorporated on Feb. 12, 1861. The first town council decided the town should be one mile square, commencing at the corner of the crossroads and extending one-half mile in each direction. Thus it was known as the "Diamond Town of the Diamond State." As the town has grown, its boundaries have extended in each direction.
Learn more about Middletown –
The town of Middletown - www.middletownde.org
The Middletown Chamber of Commerce – www.middletownareachamber.com
Active Adult Communities
Several of Delaware's most popular active adult communities are located in Middletown. Spring Arbor will have 317 homes in a cozy community where all the exterior maintenance is taken care of.
The newest community in Middletown is Four Seasons at Silver Maple, K. Hovnanian's latest offering in Delaware. Four Seasons promises to be a great new address for Active Adults in the northern part of Delaware.
Neighborhoods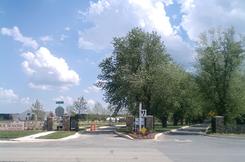 $291,000 - $400,000
1,401 - 2,500 sq ft
$221,900 - $390,000
1,250 - 5,000 sq ft